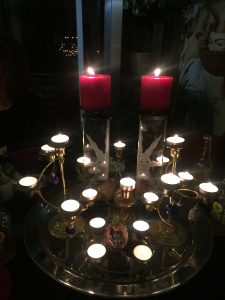 This is the season that we at Summer Time Studios take a 21 day celebration beginning December 1st to enjoy the short days and long nights by spending time with family and friends – it is our season of Winter Solstice Celebration.  The whole world celebrates deep winter with many different holidays that are intended to inspire warmth during the cold and brightness within the dark. We have always honored this time by lighting candles at our evening dinner table – one for each passing day until Winter Solstice which usually falls between the 20th and the 22nd depending on the year. By the time Winter Solstice Arrives our kitchen is lit up with 20 candles that represent the 'Return of the Light'….each day after Winter Solstice gets longer and longer.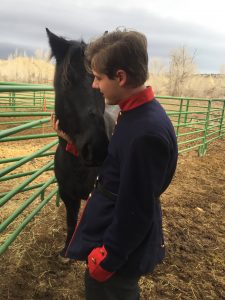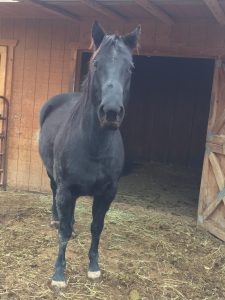 This Winter Solstice did not just bring us long black nights but also we were blessed to be able to rescue a beautiful Black horse from a very bad situation.  She lived near us and had suffered from neglect and awful living environment.  Thanks to a good friend we were able to negotiate with the owner a way to buy her from him and bring her to our loving home.  We have 4 horses at our ranch so she is able to join a new herd and receive the best care a horse deserves.  We named her Taska and from the first day of her arrival she made it clear that Jade was the one she liked the best of us! Many people know how amazing and wonderful horses are but many don't know at all how many thousands of horses are neglected and in need of rescue.  There are many horse rescue organizations throughout the country worthy of support to help horses that are in terrible situations.  We were happy that we were able to find a way to help beautiful Taska.  She has her own barn/stall now and has a warm blanket for the cold nights.  The equine vet came out to see her and gave her the treatments she needed.  She told us she was about 5 years old so that is still very young and we look forward to having many many years ahead with her living a good life with us and our herd. 
We are setting our goals for the coming year and feeling extremely grateful for all of the support we have received from our family, friends, partners, and all of the wonderful people who have enjoyed our first publication this past year.
We send out our thanks to everyone and look forward to the coming of Spring!