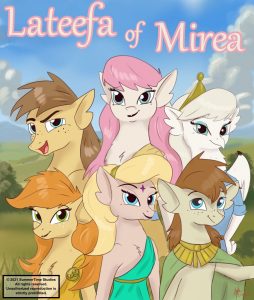 The Chinese Year of the Tiger has begun and I (Jade) am very happy with the progress that has been made on my first publication "Lateefa of Mirea". 
Last year – the Year of the Ox – I set my goal to work non-stop of this production that has been years in the making as far as story and character development.  It has been very exciting to have many pages now fully illustrated and completed.  
The reason I reference the Chinese Years is because I love studying different calendars and using them to manage my working goals.  I find the different archetypal themes of the Chinese years a fun way to align my energies with.  The year of the Ox (2021) was the year I was born (1997) so it was awesome to be able to overcome some big obstacles and complete many pages of this first book within the year of my birth.  Now that the year of the Tiger has begun I am feeling the energy of the Tiger giving me a new level of intensity I need to hopefully finish this book and be able to publish it!  According to the Chinese oracle a Tiger year is a good luck year for the Ox and will have good fortune and prosperity in their careers.  Here is a fun video about the Year of the Tiger…
February 22nd was also the two year anniversary of the establishment of Summer Time Studios as a legal Public Benefit Corporation.  Happy 2 year anniversary to Summer Time Studios!!!