Tradition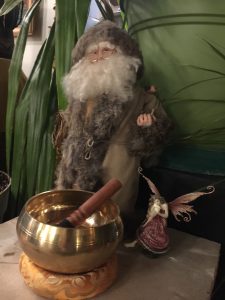 s are the foundation of family, community, and culture.
Our whole life we have celebrated the Winter Solstice which is the shortest day and longest night of the year.   It is when the Sun is at its lowest daily maximum elevation in the sky.  Winter Solstice in the northern hemisphere of Earth is the Summer Solstice in the southern hemisphere and vice-versa with the Summer Solstice.
In the winter we are closed in from the cold and we it is in those dark days that we spend a great deal of time on our creative work.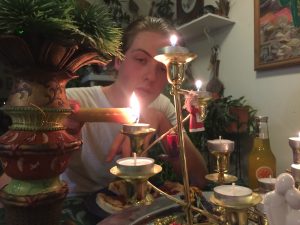 Beginning December 1st though we set up our dinner table with our Solstice Candles – 22 total.  On the first day of December we light the first candle and each day after we light one more to the grand finale of light on the 22nd of December.
To us it give us the warm light as the dark nights get longer and we always prepare special meals with the family to feast, tell stories, and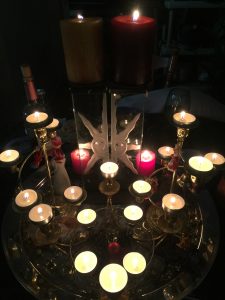 enjoy the passing of each day.
On the 22nd day the table is lit up like a miniature bonfire and it is on this day we exchange gifts and do some other special thing that marks the celebration which is different every year.
This season we watched some great movie classics almost every night and we also baked more sweets like chocolate eclairs and zucchini bread.   We grew a big garden last summer so we have a ton of frozen and canned food that we harvested.  We grew potatoes this year for the first time and made french fries which we bagged and froze so those are super yummy with some of our meals.
It's nice to be able to remember the garden time and sunlight during this time of year and eating the food from our garden warms our bellies and spirits.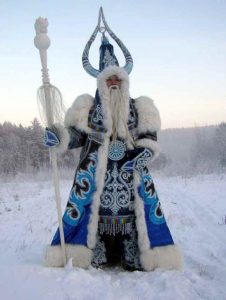 This year we were also researching other holiday traditions around the world and came across the Russian "Santa".  We were blown away at the awesome outfit he wears in this huge country where their days are much colder and nights are much longer than our own latitude on Earth.  We love to learn about other cultures and their histories and winter is a good time to spend researching and learning.
This year was very special to us and we hope all of our readers and extended family around the world were able to light the fires of their own hearths and celebrate with loved ones in whatever traditions they have that affirm the most important things…family, friends, health, community, love, and peace on Earth.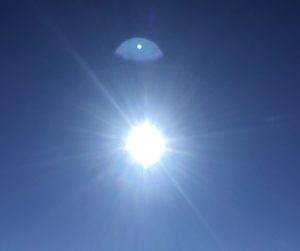 Winter may be just officially declared but after today the days will be getting longer by the minute which means Spring is coming and we are now entering the days of the Return of the Light!
The coming Spring's garden planning is already beginning for us here so the next couple months until Spring Equinox will go by faster as we get busy doing things outside again.
We send our blessings and prayers for everyone's happiness and well being!